Opening Hours
KAMLOOPS BROCK HOURS:
Open 24/7
KAMLOOPS VALLEYVIEW HOURS:
Open 24/7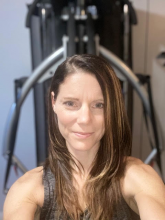 Sabrina
• Bachelor of Health Sciences with Minor in Kinesiology
• Functional Nutrition Lifestyle Practitioner
• Full Body Systems Certification
• BCRPA
• Weight Training
• Personal Training
• Group Fitness
• Aqua
• Older Adult
• Pre and Post Natal Certification
• Mat Pilates Certification
• TRX and Bosu Certification
One way to push your boundaries, get stronger and achieve your goals at Planet Woman Ladies Fitness is personal training. Having your own personal trainer means you will have help with setting your goals, guidance, feedback and accountability. All of this can help you on your way to becoming as healthy as you want to be! At our ladies only gym, you will find friendly, professional and certified trainers who are highly experienced at creating custom programs for ladies. Sabrina is a great example of one of those trainers.
Sabrina's fitness journey began at the age of 14 when she fell in love with weight training after a disaster attempt at a step class and has never looked back. She began her personal training career in 2009 and has pursued numerous certificates since then. She obtained her fitness certificates with the British Columbia Recreation and Parks Association (BCRPA) in Weight Training, Personal Training, Group Fitness, Aqua and Older Adult. She has her Pre and Post Natal with Family Passages as well as a Mat Pilates Certificate. She has also received her TRX and Bosu Certification.
Sabrina completed her Bachelor of Health Sciences with a Minor in Kinesiology through Thompson Rivers University here in Kamloops B.C. She has recently completed her Functional Nutrition Lifestyle Practitioner Certification along with a Full Body Systems Certification through Functional Nutrition Alliance Inc. Overall, she has been in the health and wellness field for over twenty years now. Sabrina is passionate about helping others and is committed to improving the health and well-being of all individuals.
Visit one of our facilities in Kamloops during staff hours to meet her and find out if she would be a great fit for helping you achieve your fitness goals!