Opening Hours
KAMLOOPS BROCK HOURS:
Open 24/7
KAMLOOPS VALLEYVIEW HOURS:
Open 24/7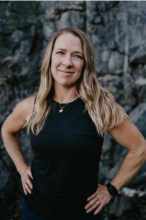 Nicolle
NICOLLE M. BORTOLUSSI
BCRPA Certified Personal Trainer (2003)
Pn1 Nutrition Coach (Precision Nutrition)
Medical Exercise/Post Rehab Specialist (In practice)
JrFit Youth Fitness Certificate
Sports Nutrition Specialist (SNS)
Indoor Cycling Teacher Certification
Pre/Post Natal Certificate
Private studio owner (2007-2022)
Emergency First Aid & CPR
I began my personal training journey in 2003, which lead me to opening a Personal Training & Spin Studio in Pemberton, BC in 2007. I've had the opportunity to trainmany clients over the past 20 years toward weight loss, general fitness and maintenance, sport conditioning and post rehab guidance. I have tremendous gratitude for every amazing client who has trusted in me to motivate, guide and coach them toward achieving their health and fitness goals.
Why a Personal Trainer? Having grown up as an athletic girl, I quietly struggled with body image and self-confidence. It was when I discovered the gym, I instantly felt that this was my happy place where I began to embrace confidence and inner strength. Knowing what to fuel my body with was the missing link. When I receivedmy Sports Nutrition Certification in 2003, I personally began to experiment with the curriculum and was blown away by the difference in my body composition just from making slight adjustments to my diet. I just needed the right tools for my body type. It was never about me being skinny, it was about feeling good in my body. I've been hooked ever since, and my personal passion has led me to a profession that allows me to help others work towards living their best lives and feeling good in their bodies.
My philosophy to living a healthy lifestyle begins with achieving balance in our busy schedules by following simple nutritional guidelines, maintaining consistent physical exercise, and having a supportive network to connect with. Life gets busy, I'm here to motivate and coach you to finding a sustainable balance that works best for YOU!!
"Take care of your body, it's the only place you have to live" ~ Jim Rohn