Opening Hours
KAMLOOPS BROCK HOURS:
Open 24/7
KAMLOOPS VALLEYVIEW HOURS:
Open 24/7

KAMLOOPS BROCK (778-470-2522)
|
KAMLOOPS VALLEYVIEW (778-471-4888)
|
Merritt (Co-ed) (250-378-0307)
|
MERRITT (250-315-5715)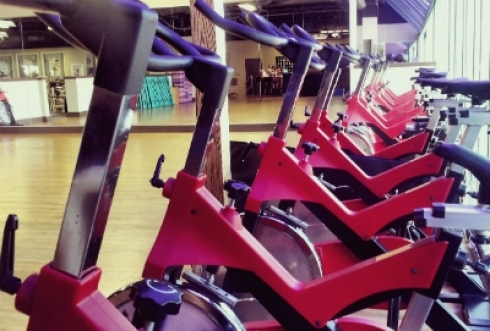 Spin
Trainers: Anneliesa
Love the outdoors, riding bikes, but weather is not always great? Planet Woman has the modern twist to your outdoor exercise dilemma.
Spin, also known as indoor cycling, is a form of exercise in a fitness class focusing on endurance, strength, intervals, high intensity, and recovery that involve using a stationary bicycle. Commonly called spinning, it is currently one of the most popular forms of aerobic exercise due to its often intense but low impact nature. Get all the benefits of cycling without the dangers of riding on the road or being subjected to bad weather! Let your spin instructor take you on a ride to a blood-pumping, heart-pounding, sweat-dripping good time, all from the comfort of Planet Woman's aerobics floor.
Take it at your own pace with this fun, no-pressure workout and watch your body transform! Spinning classes are held in fitness studios with various light and music settings to create an energized atmosphere. The instructors will guide participants through workout phases; the start up phase is the warm-up with a steady up tempo cadences. Followed by sprints, climbs and finally a cool down. There is a control of resistance on the bike to make the pedaling as easy or difficult as you choose. Constant adjustment is normal. We offer two types of indoor cycling.
For those looking to engage their upper body, arms, and back after your cardio workout, Spin and Sculpt is the class for you. After spinning with our instructor, we will divert your attention to your arms, and to your back muscles with weights. However, if you're looking forward to summer, and wanting to get rid of your muffin top to feel more incredible than you already are then Spin and Core is another indoor cycling experience that will give you a more toned midsection to show off at the beach or just to feel great! Available at different times you could always come to both and have a full body workout! All you will need for these class is workout clothes, a towel (to wipe your face) and a water bottle to keep hydrated. Don't miss out on this modern twist experience!